Welcome to the Hellmouth
Air date: March 10, 1997
Summary:
Excerpt from here.
Sixteen-year-old Buffy Summers has moved to Sunnydale from L.A., hoping to leave her troubled past behind. But Sunnydale High librarian Rupert Giles knows who Buffy is: she is the Slayer, the one girl in all the world with the strength and skill to hunt and kill vampires. He knows about her past because he is her new Watcher — the person whose destiny it is to train and guide Slayers on their path. Buffy quickly makes two friends: the shy, bookish Willow, and the goofy but lovable Xander, who is instantly attracted to Buffy.
When a student is found dead in a locker — with bite marks on his neck and completely drained of his blood — Giles enlists Buffy's help. She resists, trying to get out of the slaying game for good, but Giles insists that a crucial mystical upheaval is about to occur. Unbeknownst to them, a bewildered Xander overhears their conversation — Buffy's secret is out. Later, in a dark, eerie chamber, we see a vampire who seems to be confirming Giles' prophecy. The vampire, Luke, kneels in front of a pool of blood and says, "The sleeper will awaken. And the world will bleed."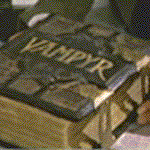 On her way to the Bronze, Sunnydale's hippest (and only) club, Buffy is followed by a handsome, mysterious stranger. He tells her she must be ready for the Harvest, and gives her a small cross. Giles meets her at the Bronze and she tells him about the encounter. Giles convinces her to use her power, and wants her to try to sense if there are any vampires in the room. She does sense one and finds him talking to Willow, but the two have walked away. Trying to catch him unawares, she grabs a makeshift stake, turns a corner and attacks... Cordelia, the snootiest girl in school, who already thought Buffy was a loser for hanging with Willow, and now thinks she's certifiable. We see Jesse, Xander's buddy, chatting with a girl we saw in vampire garb earlier, but who now appears as a normal student, Darla. Back to the pool of blood, something breaks through the surface and rises: the demonic Master Vampire. He is hungry and weak, and asks Luke to bring him something young.
Outside the Bronze, Buffy enlists Xander's help in finding Willow, who's already been led to a mausoleum by the vampire, Thomas. Willow's happy to find Jesse there, until she sees that Darla has already bit him in the neck. Buffy and Xander enter, and Buffy promptly kills Thomas. Now Willow is finally in on the secret. While Darla tries to attack Buffy, Xander and Willow lead a weakened Jesse out. Luke joins the battle and throws Buffy across the room.
The Harvest
Air date: March 10, 1997
Summary:
It is very clear from the beginning of this episode that Buffy must return to her old Slayer life. As she is pinned beneath Luke in the sarcophagus and he leans in to bite her, Luke burns himself on her cross, allowing Buffy moments to escape. Outside, she finds that her friends Willow, Xander and Jesse are in the vampires' stranglehold. She is able to save Willow and Xander; however, Jesse is unfortunately taken away to the Master's Lair. There, he is presented sustance for the Master, who gripes that he has beeen tasted. Darla blushes and apologizes. When it is revealed that Buffy is the Slayer because she was able to fight off Luke and that Jesse knows her well enough that she will come rescue him, Jesse is elevated from meal to bait.
Back at the high school library, Giles has Willow look up any information on the Harvest. Meanwhile, Buffy and Xander ponder where the vampires could have taken Jesse. They discover that the only way to the underground lair must be through the mausoleum, so she decides to go rescue him.
There she meets Angel yet again, who warns her that the Harvest will be that night. He wishes her luck on her journey into the depths, but he reminds her that she may not win. However, on her way down, she finds that Xander has foolishly followed her, despite the fact that Willow had warned him not to go. The pair descend deeper into the mazes of sewers. Upon turning one corner, they find Jesse. He is chained down, and informs them that the Master said he would be bait for the Slayer. When he attempts to lead them out, it turns out he took them purposefully to a dead end, then he vamps out. Frightened and shocked, Xander and Buffy barely manage to escape their pursuers through some grating.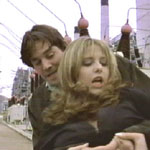 Although the Master is furious that the Slayer was allowed to escape, he offers Luke the chance to feed off of him to begin the Harvest. The Master paints a three-point star on Luke's forehead, marking him as the Vessel--a vampire who, whenever he feeds from a human on the night of the Harvest, shall feed the Master. The Scoobies also learn about this and try to come up with the one place in Sunnydale where prey will be easy: the Bronze.
Jesse finally gets his long-awaited dance with his crush Cordelia, when he orders her to dance more than asks. She seems attracted by the new force and danger and allows him the privledge. That night, Darla, Luke and company enter the Bronze (a great entrance, I might add) and begin to round up victims. The night of terror and blood has already commenced when the Scooby Gang shows up to fight. As Luke gets ready to drink from Cordelia, Buffy jumps down from the catwalks and offers herself (as a challenge). Luke can't refuse, and a tough battle begins. Meanwhile, Xander faces off with his best friend Jesse. He tries to remember Giles words that Jesse is no longer his beloved friend, but rather a demon in the familiar body, but it proves hard to let go. Jesse gets ready to move in for the kill, but he is accidentally bumped onto the end of Xander's stake, and he is dust. Back on center stage, Buffy struggles with Luke, but formulates a plan to trick the Vessel. She makes him believe that it is daytime, and she breaks a window, streetlight streaming in. He cringes, falling for it, and that gives her the time to kill him.
The Bronze is saved as is Sunnydale for the time being. The Master is unable to escape from his nexus, and he curses to himself. The next day at school, Cordelia rationalizes what happened to one of her friends, making up another wild story of gang warfare or something. Giles explains that if the human mind doesn't want to comprehend the existence of evils, it will try and make excuses for them. The others banter back and forth about not studying and slacking. Giles comments, "The Earth is doomed."
The Witch
Air date: March 17, 1997
Summary: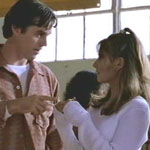 Cheerleading tryouts at Sunnydale High prove to be more exciting than expected, when Amber Grove, the most talented of the girls who try out, catches fire. Meanwhile, Amy Madison is under fierce pressure from her mother, Catherine, the former cheerleading champion of Sunnydale High, to live up to her own reputation from years before. Unfortunately, Amy is the third alternate, which means she only gets on the squad if something happens to three people on the team. Sure enough, something happens to three people on the team--Cordelia is struck blind, Lishanne's mouth is sealed over, and then Buffy is turned into a gibbering idiot, the result of a Bloodstone Vengeance Spell.
Giles and weakened Buffy go to the Madison house to discover that it isn't Amy who's casting the spells at all--it's her mother, Catherine, who has switched bodies with Amy in order to relived her glory days. Fortunately, Giles is able to reverse all the spells, even as Buffy battles Catherine, whose final spell is repelled and ironically traps the witch herself inside the cheerleading trophy she won when she attended Sunnydale High.
Teacher's Pet
Air date: March 25, 1997
Summary:
Buffy receives an encouraging pep talk from her biology teacher, Dr. Gregory, who, sadly, turns up the nest day without his head. His substitute is a sultry, sexy woman named Natalie French, who talks at length about preying mantises and has all the boys' hormones in overdrive. Buffy at first suspects Claw, a vampire whose hand had been replaced by sharp implements, as the culprit for the biology teacher's murder, but is surprised when she sees that very vampire whimper and flee at the sight of Ms. French.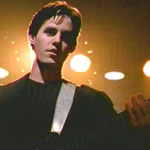 Giles seeks advice from his friends Dr. Carlyle Ferris, who is an expert in entomology and mythology, and who is also quite mad since hunting a She-Mantis at Oxford. Meanwhile, Ms. French, apparently the same creature that Carlyle hunted, has taken both Xander and Blayne prisoner, with the intent of mating with them and then killing them. Buffy manages to kill the creature before the boys are decapitated.
better resources. better fanfic. better bx.